Cart Service & Repairs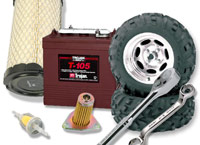 Specialty Cartz & Partz, LLC. is a family owned and operated business with over 40 years of combined experience in repair of both gas and electric golf carts.
We service what we sell, including all makes and models, with a very quick turn around time. We also offer a free diagnosis with any repair. The service always includes a comprehensive check list advising of any immediate repairs necessary and/or repairs needed in the near future, with a price estimate of these repairs.
We have the best and most accurate battery testing abilities in our service center. This can tell you if you have just one bad battery or multiple and exactly which one it is that needs replaced. We can also tell you exactly how much run time you have left in your batteries. Specialty Cartz & Partz sells top of line batteries, Trojan.